In this update, I'll be showing off Isengard's new hero and some major changes to Saruman.
Saruman starts off with a new Rank 10 power - Storm. This power can be cast on enemy buildings to massively decrease their production output while damaging them as well. Don't like your opponent's prized Level 3 Mumakil Pen? Well, a Storm or two will destroy it. The rest of his powers are unchanged.
Eventually Saruman the White broke light to see what it was made of, and so became Saruman of Many Colours. In the mod, Summon Balrog has been replaced by a power upgrading Saruman. This gives him a host of new devastating powers to choose from. Firstly, Wizard blast becomes Crushing Blast, a new power with greater range that deals crushing damage to all enemies causght within its area of effect. Fireball is improved to Searing Fireball, which ignites the ground for several seconds after impact. Both Dominate and his Leadership powers also increase in radius and strength. Speech Craft is replaced by Isengard Unleashed, a new power that greatly boots the production speed of a target building for quite a long duration. Finally, Storm is also replaced - Duel of Minds is another crafty new power. When used, Saruman will engage in a duel of wills with the opponent. This has the effect of debuffing all of their attributes and doing some light damage. The power lasts until Saruman is moved or uses another power, so can be used to lock down an opponent's hero. However, there are a few mighty characters with the mental fortitude to stave off this attack completely...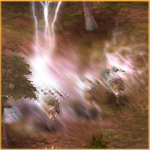 Besides this set of powers, Saruman also casts lightning bolts when upgraded, which provide a slow but rather powerful attack.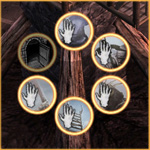 When you purchase Saruman of Many Colours from the spellbook, you also gain a new structure. Your Citadels construct a scaffhold around them upon which Saruman can perch and give orders to his minions. From the building, you can purchase Focus upgrades. Only one can be active at a time, but you may choose from modes that benefit Uruks, Archers, Warg Riders, Siege Weapons or resource collection.