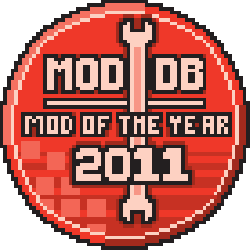 First off, I'd just like to mention that Moddb's Mod of the Year contest is going on right now. If you'd like to support us in our effort to get some BFME mods well-recognized, you could head over to our page
HERE
and vote for us. Also consider voting for
Phoenix Rising
, another Revora mod that I work on from time to time
. We'd really appreciate the support.
Anyways, on to the update!
Welcome to the first Rohan update! The next few updates will roll out the changes to the Horse-Lords of Middle-earth, and then, hopefully, we'll release version 0.75.
We'll kick off the next set of updates with the three new Rohan units we'll be introducing, as well as one structure.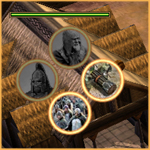 As in version 0.55, Rohan still has access to the Royal Guardsmen and Door-Wardens of Edoras. However, all of the new units are rather crowding the Archery Range and Stables. To that end, we're adding a Barracks to the faction (build animations graciously provided by Rob38). This structure now houses the new general units of the Rohan faction. Door Wardens are now built there at Rank 3.
The Westfold Miltia are levied spearmen. They aren't that tough or versatile, but are reasonably inexpensive. If you're having a lot of trouble with enemy cavalry and Warg Riders, some Militia may be a good choice. They combo well with Peasants and Yeoman Archers. Westfolders are constructed at the Rank 1 Barracks, but first require you to purchase the Defenders of the Wold upgrade from the same structure. This enables Westfold Militia for purchase at any Barracks, and and Horsemen of the Mark at any Farm.
The last new unit that Rohan gets is the Rohirric Battering Ram. A basic siege weapon, it doesn't need much of a description - it is manned by a tough crew of Westfolders and can be used to batter down gates and small walls.
Edited by Nertea, 05 December 2011 - 11:58 PM.