2012 has been a transformative year for us. Version 1.2 premiered in March and we've been anything but idle since. After wrestling the engine for years over certain features, we've finally reached a point where our design is beginning to fall into place. There are plenty of updates to reveal over the next couple of weeks, but for now, please help get us into the Top 100 by voting in Mod DB's annual contest. Just click on the wrench and trophy image to visit our page, then click again on the "Vote For This Mod" button in green.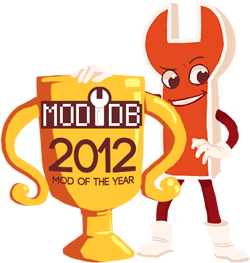 As you may know, Nertea was busy publishing his own mod for
Battle for Middle-earth
in between modeling our vehicles. Kindly consider voting for
The Dwarf Holds
, which also had a major release this year.
Edited by Phoenix Rising, 03 December 2012 - 07:05 PM.