Scout Ba-64B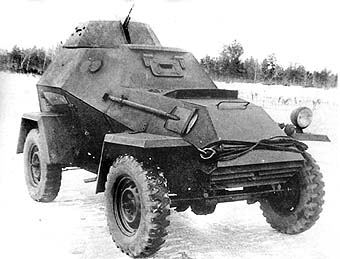 The BA-64 "Bobik" was designed to improve on the earlier Soviet's armored cars poor flotation and weak armour. It was the first one with four-wheel drive, and could climb 30° slopes. Its small size made it faster than previous armored cars, but could only fit a small-caliber machine gun. The gun's ability to fire on upper floors made it very effective in urban combats. From the spring of 1943 up to 1946 mass production of the modernised BA-64B continued. In 1944, by a report of NKO, the monthly output of the BA-64B was 250 cars, yearly output of the radio-equipped BA-64Bs was 1404. Notwithstanding their weak armament, BA-64 armored cars were used successfully in most reconnaissance operations as well as for infantry support.
Dimensions: 3.66 x 1.69 x 1.9 (h) mt
Weight: 2.425 tons
Armament: 1 x 7,62 mm DT MG
Propulsion: Gasoline carburettor GAZ-MM, 50 hp
Speed (Max): 80 km/hr
Armor (Max): 15
Crew: 2
Repair vehicle TT 34
The first mass production T-34 came to the tank formations of the Red Army late autumn 1940. However, the planned fighting training has begun only spring 1941. Unfortunately, much reorganization of the tank troops that were conducted last two pre-war years influenced negatively on the mastering the use of the new tanks.
Dimensions: 6.10 x 3.00 x 2.70(h) m
Weight: 32 tons
Armament: N/A
Propulsion: Diesel W-2-34, 500 hp
Speed (Max): 55 km/hr
Armor (Max): 90 mm
Crew: 5
Medium tank T-34/85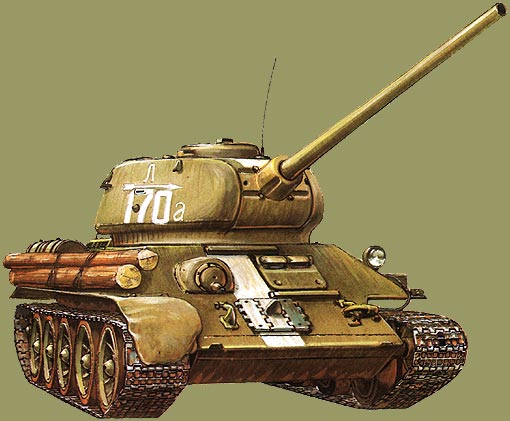 The T-34/85 utilized the hull & components of the earlier 76mm version, but fitted with a new turret. The new turret incorporated two major improvements. The first was that it accommodated three men, so the commander no longer doubled as the gunner. The second was the replacement of the F-34 gun with an 85mm gun. The early models suffered from unreliable engines & clutches that limited their usefulness. These problems were mostly ironed out in later versions and the T-34 became one of the best tanks of the war.
Dimensions: 8.15 x 3.0 x 2.6 (h) mt
Weight: 32.0 tons
Armament: 1x 85 mm Gun, 1x MG 7.62 mm
Propulsion: Diesel W-2 34, 500 hp
Armor (Max): 90 mm
Speed (Max): 55 km/hr
Crew: 4
Tank destroyer Su 100
The SU-100 self-propelled anti-tank gun was designed at the Uralmash factory in 1944, and it proved to be the best self-propelled anti-tank gun of World War Two, capable of defeating the Tiger, Panther, Königstiger or any other enemy tank at acceptable combat ranges. The SU-100 remained in production at factories in the Soviet Union and Czechoslovakia even after the war, and it continued to serve as a tank destroyer in many Warsaw Pact forces. Many SU-100 self-propelled anti-tank guns were exported to countries in the Middle East, Africa and South America.
Dimensions: 9.45 x 3 x 2.245 (h) mt
Weight: 31.6 tons
Propulsion: Diesel W2. 500
Armament: 1x 100mm L.56 D-10c cannon
Armor (Max): 75 mm
Speed (Max): 50 km/hr
Crew: 4
Infantry killer Klementi Vorishilov Kv-8
The flamethrower tanks were intended for assaulting heavy entrenchments because of their great psychological effect. In November 1941, in Chelyabinsk, work on the KV-8 tank began. Under the Soviet pre-war tank theories, all flamethrower tanks were counted as a part of the Soviet Tank Army. During this time, versions of the T-26 light tank (OT-26, OT-130 and OT-133) were used as flamethrower tanks. However they were too weak and too light. The experience of the Winter War showed that flame tanks became the first targets for any anti-tank defense. That's why more powerful and better protected tanks were needed. So, Soviet tank designers decided to re-equipT-34-76 and KV-1 tanks with flamethrowers. The new ATO-41 flamethrower was mounted in the hull of the T-34 (in place of the bow TMG) and in the turret of the KV-1 (in place of the coaxial TMG). Unfortunately, the KV's turret hadn't enough room to mount both the ATO-41 and the 76.2 mm gun, so this gun was replaced with a 45 mm gun mod. 1932. The thin barrel of this gun was camouflaged with a special gun jacket to simulate the common 76.2 mm gun. The KV-8 had 92 rounds for the 45 mm gun and 107 shots for flamethrower with a total of 960 litres of gas mixture. In addition the tank had a bow DT TMG and a DT in the rear of the turret. Also, some tanks were equipped with a DT AAMG. Total ammunition for the machine-guns was 3400 rounds. The ATO-41 could fire up to three times in every 10 seconds. Each shot took about 10 litres of gas mixture. The range of the flamethrower depended on the type of gas mixture:
- 65 litres with 60% mazut and 40% kerosene;
- 100 litres with kerosene-oil mixture.
The production of the KV-8 tank began in 1942. The main advantage of the KV-8 over the OT-34 was the capacity of gas mixture. The KV-8 and the OT-34 were organized in separate battalions of flamethrower tanks (The Chemical Tank Battalions).
Dimensions: 6.75 x 3.27 x 2.85 (h) mt
Weight: 45 tons
Armament: 1x 45mm model 42 cannon, 1x ATO-42 Kerosene flamethrower
Propulsion: Diesel W-2-K, 600 hp
Speed (max.): 35 km/hr
Armor (max.): 110 mm
Crew: 5
Anti aircraft ZSU 37
In early 1942, the design team at Zavod in Kirow began its development of a self-propelled gun based upon the T-60 chassis, specified as OSU-76 (Opytnaya Samokhodnaya Ustanovka). The OSU-76 was armed with a 76.2mm ZiS-3 gun mounted on the rear of a modified T-60 light tank. Inadequate size of the chassis resulted in the T-60 chassis being replaced with a T-70 chassis and a new project. In the spring of 1942, the Grabin team at Zavod #92 in Gorki designed the SU-12. This was practically an enlarged chassis with a 76.2mm ZiS-3 gun in an open-top superstructure at the rear. After completed trials in the summer of 1942, the GKO accepted it for production, known as the SU-76 light mechanized gun. The new vehicle was intended to provide fire support for rifle and tank units, and eventually to act as a tank destroyer. A total of 26 SU-76 were built during 1942. Engine system proved to be very unreliable on early vehicles and in the spring of 1943 design responsibility shifted to Astrov's Bureau and later a modified vehicle appeard, known as SU-76M. In 1944, very few SU-76M were refitted with a single 37mm anti-aircraft gun and was specified as ZSU-37-1. A twin-barelled version with two 37mm guns was specified as ZSU-37-2. 70 ZSU was built in 1944, and when production ceased in 1948 some 340 vehicles had been built.
Dimensions: 5.25 x 2.745 x 2.28 (h) mt
Weight: 11.5 tons
Armament: 1 x 37 mm model 1939 AA gun
Propulsion: 2 x carburetor GAZ-203, 70 hp each
Speed (Max): 45 km/hr
Armor (Max): 35 mm
Crew: 6
Artillery Bm-13 N "Katyusha"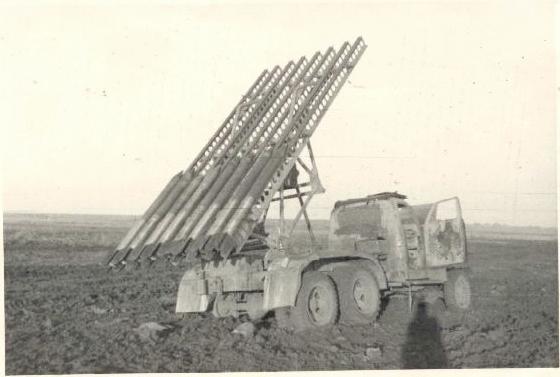 The Soviet Army was the greatest user of rocket artillery in the Second World War, and one of its most successful designs was the lorry-borne rocket system, a configuration given the nickname 'Katyusha'. The particular type depicted in the game is the BM-13N, consisting of the BM-13 rocket system on the American Lend-Lease truck, the Studebaker US9. Kayusha's were initially used in the defence of Stalingrad. In March 1941 the first successful fire tests of BM-13 rocket launchers were carried out and 21 June mass production order was sign. Originally this system was based on standard ZIS-5 but this experience wasn't successful. Afterwards ZIS-6 was chosen. At last BM-13 was mounted only on Studebaker-US6 (BM-13N).
Dimensions: 5.41 x 2.1 x 2.2 (h) mt
Weight: 3.69 tons
Armor (max): 30 mm
Speed (max): 50 km/hr
Engine: Hercules JXD, 94hp
Armament: 16x 132 mm Multiple launched rocket system
Crew: 3
heavy tank IS-2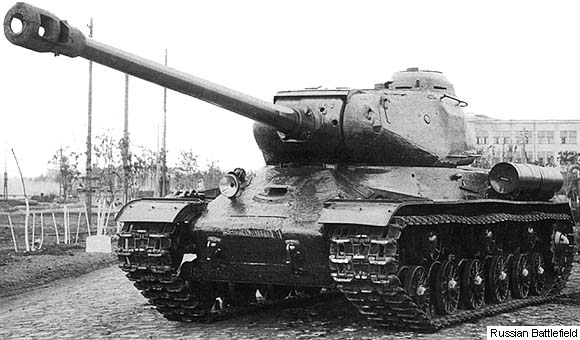 The IS-2 was the most powerfully armed tank in WWII, and its improved fire control system meant it could fight Panthers and Tigers on more than equal terms. Heavy Guard Tank Regiments were equipped with the IS-2 in February 1944. The armor of 150mm on the hull and 100mm on the turret made it impervious even to the 75mm gun of the Panther. The tank was improved several times before the end of WWII. Improvements included a 700 hp engine, a 5-speed gearbox and a new radio. Major shortcomings included a slow rate of fire, storage for only 28 rounds and internal splintering of the armor when hit. The long gun was extremely powerful but it required two-part ammunition. Nevertheless, the tank proved very effective in combat versus both the Tiger and the Tiger II. A total of 4,392 were produced.
Dimensions: 9.8 x 3.1 x 2.7 (h) mt
Weight: 46 tons
Armament: 1x 122mm D-25T gun, 1x 12.7mm DShK MG
Propulsion: Diesel V-2-IS (V-2-10), 600 hp
Speed (Max): 37 km/hr
Armor (Max): 120 mm
Crew: 4
Super Heavy Tank IS-3
In October 1944, the first prototype named "Object 703" was shown to G.K. Zhukov and A.M. Vasilevsky. They reported to Stalin about the new tank and Stalin signed an order to accept the new tank for service.
After those trials, the "Object 703" was shown to G.K. Zhukov and A.M. Vasilevsky. They reported to Stalin about the new tank and Stalin signed an order to accept the new tank in service. The IS-3 heavy tank (or its working "Object 703" designation) as approved, boasted a very good hull and turret, with excellent armor protection. The sloped armor on the turret and hull allowed better overall protection of the tank. The rear armor plate was sloped rearwards. The centered driver's position was fitted with a sight-equipped hatch. Before opening the hatch, the sight had to be removed.
The semi-automatic 122 mm main gun was fitted with a muzzle brake. The rate of fire was about two to three shots per minute. Like its predecessor, the IS-2, the IS-3 normally carried 28 shells: eighteen high-explosive fragmentation rounds, and ten armor-piercing rounds. This ammunition distribution suggests that infantry and other 'soft' targets were intended as the main targets for the IS-3. The IS-3 carried four internal steel fuel tanks with a total capacity of 450 litres. The fuel tanks sat in pairs on both sides of the engine. Furthermore, the IS-3 was equipped with four cylindrical external fuel tanks. These external fuel tanks each carried 90 litres, and were connected to the internal fuel tanks. The external fuel tanks were equipped with emergency release brackets in case of a fire or a sudden attack. The first test group of IS-3's left the factory gates in mid-May 1945. Despite western opinion (usually I hear about IS-3's seen on the streets of Vienna), IS-3 tanks weren't involved in battles on the Eastern Front. The participation of IS-3's in Far Eastern Front battles (in August 1945) is still unverified: at least one tank regiment of IS-3 tanks was sent, but Soviet combat records don't confirm any actual combat. On September 7, 1945, a united Allied military parade was held in Berlin. The parade began with infantry columns: Soviet soldiers of the 9th Rifle Corps of the 5th Shock Army, then soldiers of the French 2nd Infantry Division, Alpine troops, and Zoaves. There was a brilliant display by the British 131st Infantry Brigade. Paratroopers of the 82nd Airborne Division brought up the rear. After a short break, a continuous mechanized column started.
Dimensions: 6.67 x 3.20 x 3.43 (h) mt
Weight: 45.8 tons
Armament: 1x 122mm D-25S L/45 Cannon, 2x 7.62 mm DT MG, 1x 12.7 mm DSchK 38/43 AA
Propulsion: Diesel V-2-k, 600 hp
Speed (max): 40 km/hr
Armor (max): 200 mm
Crew: 4
Self propelled gun ISU-152
The ISU-152 was one of the first Soviet heavy self- propelled artillery carriages. Initially, it was based on the KV-1 chassis. When production of KV-1 ceased, the IS Series chassis was used. Entered service in 1943 in time for the battle of Kursk. Served both as an anti-tank gun and a heavy assault gun. Fired a 2-piece cartridge at a rate of only 2 shots/min. Ammunition storage was sparse, requiring supplies by ammunition carriers. Called "Zveroby" (animal killer) by Soviet tank crews because of the devastating effect of its 95 Ib. projectile on Panthers, Tigers and Elephants. Very effective in the Battle of Berlin. Served after the war as late as 1956 where it was used in crushing the Hungarian uprising. Over 700 were produced. Developed into the ISU-130 post war with a 130mm gun
Dimensions: 9.18 x 3.07 x 2.48 (h) mt
Weight: 46 tons
Armament: 1x 152mm howitzer ML20, 1x 12.7mm MG
Propulsion: Diesel V-2-k, 520 hp
Speed (max): 37 km/hr
Armor (max): 90 mm
Crew: 5
Fighter Mikoyan-Gurevich Mig-3
In 1941 the German Luftwaffe encountered a previously unknown Russian fighter with a long slender nose, clearly powered by an inline or "Vee" type engine. The known Soviet fighters were powered by radial engines and lacked the performance of the front line German fighters. German intelligence was very poor concerning the Soviet Air Force and the existence of this new fighter took Luftwaffe fighter pilots completely by surprise. Since, in the West, the Bf 109F was considered to be the best, or at least one of the best, air superiority fighters in the world at that time, the MiG-3 is clearly worth examining more closely. "MiG," incidentally, is the acronym of the Mikoyan-Gurevich Experimental Construction Bureau design team. The MiG-3 was the result of the program to improve the MiG-1. The MiG-3 was primarily built around a steel tube frame with duralumin skin. The new ship was visually similar to the MiG-1, but the engine was moved forward 4" to change the center of gravity, the dihedral of the outer wing was increased 1 degree to improve stability, the airframe was strengthened, the height of the aft fuselage was reduced for better pilot visibility, the radiator fairing was moved forward and the supercharger intakes enlarged. To increase operational flexibility, a 55 gallon fuselage fuel tank was added along with four wing hardpoints. These allowed the MiG-3 to carry 440 pounds of bombs or 6-3.2 inch RS82 rockets. Pilot survivability was increased by the addition of 9mm seat armor and all fuel tanks were surrounded by inert gas to reduce the chance of fire or explosion due to battle damage. The MiG-3 was ordered into production in December 1940. First deliveries of the new fighter to front line fighter squadrons occurred in April 1941. The MiG-3 remained in series production until the last week of December 1941, when it was discontinued due to the unfortunate unavailability of the AM-35A engine. Total MiG-3 production amounted to some 3120 aircraft, and 50 more were built from available parts during the first half of 1942. The MiG-3 remained in service almost to the end of the war; wrecked aircraft were often cannibalized to keep others flying.
Wing span: 10.2 mt
Lenght: 8.26 mt
Height: 3.5 mt
Weight (max): 3225 kg
Propulsion: 1x AM 38, 1600 hp
Speed (max): 547 km/h
Service ceiling: 9500 mt
Armament: 1x 12.7mm UBS MG, 2x 7.62mm ShKAS MG
Bomb load: 200kg (2x FAB-100 or 2x FAB-50)
another 200kg (2x FAB-100 or 4x FAB-25) or 6x RS82 rockets
Crew: 1
Interceptor Ilyushin Il-2m3 "Shturmovik"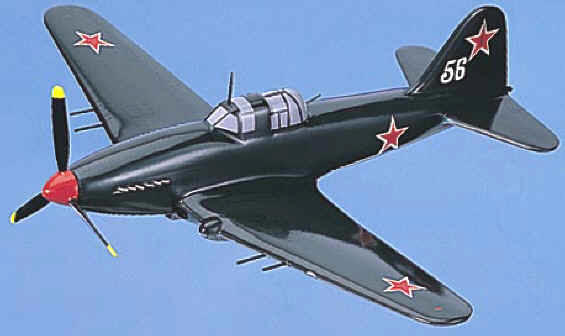 The Soviet Ilyushin Il-2 succeeded where the British Fairey Battle had failed. Immense strength and armoured protection, powerful armament and committal to combat under heavy fighter protection all combined to render the bronirovannyi shturmovik (armoured assault aircraft) a decisive weapon in the Soviet armoury during the final two years of the war in Europe. Christened the 'flying tank' by the Soviet infantrymen, and the schwarzer Tod (Black Death) by the men of the German army, the Il-2 originated as a two-seater but was modified to a single-seater and in this form was entering service with the V-VS at the time of Germany's invasion of the USSR on 22 June 1941. However, in those early months of almost total German air supremacy the early Il-2s emerged amidst a welter of criticism, being found to lack punch against the enemy's armoured fighting vehicles (their principal targets) and hopelessly vulnerable in the presence of enemy fighters. The "Flying Tank" of the Soviet Air Force, the Il-2 has the distinction of being the most produced aircraft in history at a total of 36163. After the prototype was flown in December 1939, the production line was quickly opened and the aircraft entered combat in July 1941, just after the German invasion. From that point on the Shturmovik (armoured attacker) became a highly effective ground attack aircraft through to the end of the war with successive versions being fielded as late as the Korean War. Surrounded by armour 4 mm to 8 mm thick, the aircraft's pilot, engine and fuel tanks were difficult to hit from above and below, making the Il-2 near impervious to fighters and flak. Such rugged construction, combined with several cannon and lowlevel flying, made the aircraft a pivotal piece of flying artillery in opposing the German advance, then throwing it back. The initial single-seat versions proved vulnerable, so a second seat was added for a rear-firing gunner. Later versions were fitted with two 37 trim cannon which could punch through most tank armour.
Wing span: 14.80 mt
Lenght: 11.65 mt
Height: 3.4 mt
Weight (max): 5515 kg
Propulsion: 1x MIKULIN AM-38F, 1770 hp
Speed (max): 600 km/h
Service ceiling: 6500 mt
Armament: 2x 37mm Nudelman-Suranov NS-11-P-37 cannons, 1x 12,7mm MG-UB, 2x 7.62mm SHKAS MG
Bomb load: 6x 100 kg FAB-100 or 4x Der-50 containers containing 50x 2.5 kg PTAB anti armour bomblets, 8x RS-132 rockets
Crew: 2
Air transport Lisunov Li2
Few aircraft are as well known or were so widely used for so long as the C-47 or "Gooney Bird" as it was affectionately nicknamed. The aircraft was adapted from the DC-3 commercial airliner which appeared in 1936. The first C-47s were ordered in 1940 and by the end of WW II, 9,348 had been procured for AAF use. They carried personnel and cargo, and in a combat role, towed troop-carrying gliders and dropped paratroops into enemy territory. After WW II, many C-47s remained in USAF service, participating in the Berlin Airlift and other peacetime activities. During the Korean War, C-47s hauled supplies, dropped paratroops, evacuated wounded and dropped flares for night bombing attacks. In Vietnam, the C-47 served again as a transport, but it was also used in a variety of other ways which included flying ground attack (gunship) , reconnaissance, and psychological warfare missions. Under the name Lisunou Li2, the Russians built hundreds of them under licence and the Japanese did the same after the war.
Wing span: 28.5 mt
Lenght: 19.35 mt
Height: 4.83 mt
Weight (Max): 14850 kg
Propulsion: 2x Pratt & Whitney R-1830s, 1200 hp each
Speed (Max): 371 km/h
Service ceiling: 7335 mt
Armament: N/A
Bomb load: N/A
Crew: 6
Bomber Petlyakov Pe-2FT Peshka
One of the great paradoxes of aircraft development is that an airplane can sometimes become extremely successful in a combat role for which it was not originally designed. There is the Beaufighter, the Typhoon, the Mosquito, and the Ju-88. To this list, one can add the Petlyakov Pe-2 - originally designed as a two-seat, turbo supercharged, high altitude, long range interceptor - which achieved amazing success as a three-seat, low-altitude, short-to-medium range level and dive bomber. The Pe-2 was built in greater numbers than any Soviet bomber before or since WW II. The first Soviet Air Force regiments began to receive the 'Peshka' (little pet) in the spring of 1941. The aircraft's performance was such that when the Hurricanes of 151 Wing RAF escorted Pe-2s in fighting around Murmansk in the fall of 1941, the British pilots had to firewall their throttles to keep up with the Peshka in high-speed cruise. The definitive Pe-2FT (Frontovoye Trebovaniye - Frontline Request) appeared in 1942. The Pe-2FT was equipped with a turret replacing the earlier handheld dorsal machine gun. Curiously, there is no underwing ordnance, which is surprising since the Pe-2FT normally carried four 250 Kg bombs on external racks.
Wing span: 17.11 mt
Lenght: 12.78 mt
Height: 3.42 mt
Weight (Max): 8520 kg
Propulsion: 2x Klimov VK-105PF Vee, 1260 hp each
Speed (Max): 579 km/h
Service ceiling: 8800 mt
Armament: 2x 7,62 mm MG, 2x 7.62mm MG in the dorsal turret; 1x 7,62 mm or 12,7 mm in ventral zone, 2x 7,62 mm or 12,7 mm in the wings
Bomb load: 4x 250 kg FAB-250 bombs, or 6x 100 kf FAB-100 bombs
Crew: 4
Rocket interceptor Bereznyak-Isayev BI-1
The BI was the first liquid-fuel rocket jet fighter aircraft flown in the USSR.
This was a low-wing cantilever monoplane of simple mixed construction from the very beginning designed to facilitate mass production.
The aircraft was designed by Alexander Yakovlevich Bereznyak (1912 - 1974) and Alexei Mikhailovich Isayev (1908 - 1971) under the direction of Professor Victor Bolkhovitinov, head of the OKB Bolkhovitinov (aircraft design bureau).
The BI was powered by Dushkin - Isayev D-1A-1100 mounted in the tail section of the aircraft and capable of providing sustained thrust for 2 minutes.
The engine was fuelled by a highly-volatile mixture of aviation-grade kerosene and nitric acid, which was dangerous to handle and caused corrosion of the aircraft's tanks and fuel lines considerably delaying the aircraft's development.
Technical plans for the BI were completed in Spring of 1941, but the project's development could not go ahead until it received Stalin's approval on July 9, 1941. The first prototype was produced in only 35 days.
Wing span: 6.48 mt
Lenght: 6.40 mt
Height: ?
Weight (max): 1650 kg
Propulsion: 1x Dushkin - Isayev D-14-1100, 1406 kg
Speed (max): 990 km/h
Service ceiling: 10000 mt
Armament: 2x ShVAK-20 20mm cannons
Bomb load: N/A
Crew: 1
Heavy bomber Petlyakov Pe-8
The first TB-7 was delivered in May 1940. By July of that year, Petlyakov had been rehabilitated, and in fact was assigned his own OKB, which retained ownership of the TB-7. The bomber would be presently redesignated "Pe-8" to reflect the change in management. It is not clear when this change was actually made, different sources claiming 1941 or 1942, but the designation "Pe-8" will be used in the rest of this document for simplicity. The Pe-8 performed the Soviet Union's first bombing raid on Berlin, on the night of 10 August 1941, barely three weeks after the Nazi invasion. It was mostly a propaganda exercise, with only five of the eight bombers on the raid actually reaching Berlin, and then dumping their loads haphazardly. Along with conducting long-range night raids, Pe-8s also served as long-range transports, dropping agents and supplies and delivering diplomats. In April 1942, a Pe-8 performed a non-stop flight to England to deliver embassy personnel and mail, and in May one carried Soviet Foreign Minister Vyacheslav Molotov and his staff to Britain and the US.
Wing span: 39.1 mt
Lenght: 23.6 mt
Height: 6.2 mt
Weight (max): 31420 kg
Propulsion: 4x Mikulin AM-35A, 1350 hp each
Speed (max): 438 km/h
Service ceiling: 8400 mt
Armament: 2x 20mm cannons, 2x 12.7mm MG, 2x 7.62mm MG
Bomb load: 5000 kg
Crew: 11
Destroyer Leningrad class
These destroyers (Leningrad, Moskva and Kharkov) were designated as 'Leaders'. Three ships were built (1 operated in the Baltic and 2 in the Black Sea). Three more ships of the succeeding Minsk class were nearly identical. Small improvements over the Leningrad class set these ships in their own class.
The Minsk was originally designed as a Project #1 Leningrad class ship but this was changed during construction.
Displacement (Max): 2597 tons
Dimensions: 127.5 x 11.7 x 4.14 (lenght x beam x draft) mt
Propulsion: 3x boilers, 3x SR steam turbines, 3x shafts 66900 shp
Speed (Max): 40.5 knots
Main Armament: 5 x 130mm cannons
Secondary Armament: 3x 76.2mm cannons, 2x 4 533mm torpedo tubes, 68 mines
AA: 2x 46mm cannons 3x 37mm cannons, 6x 7.62mm MG
Crew: 344
Submarine Dekabrist class
In World War One Imperial Russia had developed an effective submarine with the Bars Class. Using that as a starting point and assisted by discoveries of British practices through examination of one of their submarines, the L-55, the purchase of plans from the Italian company of Cantieri dell' Adriatico and the ideas of Soviet chief engineer, M. Malinin, the Soviet Navy designed a new class of medium submarine, called the Dekabrist Class. Six boats were laid down in this first of many classes of Soviet submarines. All six were given names commemorating revolutionary groups. In 1930 the six boats of the class lost their names and were given numbers with Dekabrist, the first boat, being named D-1. This first class of Soviet submarine was called the D Class, because that was the first letter of the name of the first boat, Dekabrist.
Displacement (max): 1353 tons
Dimensions: 77 x 6.87 x 3.75 (lenght x beam x draft) mt
Propulsion: 2x diesel engines, 2200 shp; 2x electric motors, 1050 hp
Speed: 14.3 (surfaced), 8.7 (submerged) knots
Main Armament: 1x 100mm cannon
Secondary Armament: 8x 533.4 torpedo tubes, (6 bow, 2 stern)
AA: 1x 45mm, 1x 7.62mm MG
Crew: 55
Naval transport Landing Craft Tank MkVI LCT(6)
The LCT-6 was an improved LCT-5 designed to permit stern loading and better living accommodations. Three watertight sections that were carried disassembled on decks of larger ships or carried assembled on a LST deck were methods of transporting these craft.
It has the capacity of four medium up to three 50-ton tanks, or 150 tons cargo.
Displacement (max): 255.6 tons
Dimensions: 35.73 x 9.84 x 1.016 (lenght x beam x draft) mt
Propulsion: 3x Gray Diesel engines, 225 shp each
Speed (max): 7 knots
Main Armament: N/A
Secondary Armament: 4x 50 cal. machine guns
AA: 2x 20 mm cannons
Crew: 12 + 150 tons cargo
Cruiser Kirov class
Construction of Kirov is undoubtedly an important milestone in Russian naval engineering. The first Soviet-built large military ship, it embodied the latest achievements of science and technology, matching or exceeding its foreign counterparts in all parameters. Its main advantages were very powerful artillery, high automation of fire control, powerful propulsion plant and hence, good speed. The ship was equipped with very reliable survivability systems, including water, foam and carbon dioxide fire suppression systems in backup to each other. Accommodations were also quite advanced: seamen's club, library, saunas, sick bay with X-ray and dental facilities - in the 30-s, other ships' crews could only dream of this. At the same time, Kirov had certain weak spots. The ship had virtually no anti-torpedo means; the air defense guns were poorly placed. The unique power of the guns (the 37 km range with 97.5 kg shells) was achieved at a high cost - the wear of the barrel was too quick. Three guns in a cradle were too vulnerable: one hit to a turret would destroy three guns at once. The keel of Kirov, the lead ship of Project No. 26, was laid at Baltiysky Zavod on October 22, 1935, and the hull was launched one year later on November 30. On September 26, 1938, Kirov raised a flag. Between 1938 and 1944, 6 cruisers were built for the Soviet Navy under projects no. 26 and 26-bis: Kirov, Voroshilov, Maxim Gorky, Molotov, Kalinin and Kaganovich. From the very beginning of WWII, Kirov went into battle, defending the Riga Bay and Tallinn, attacking enemy's positions, repulsing air attacks. In August 1941, Kirov was the flagship of the Tallinn operation (breaking through to Kronstadt), then heroically defended Leningrad. In June 1944, Kirov's big guns provided fire support for Soviet Army's advance toward Vyborg. On January 27, 1943, the cruiser was the first surface ship of the Baltic Fleet to be awarded the Order of Red Banner. After WWII, Kirov was re-equipped, and in the 60-s became a training ship. The veteran cruiser sailed the Baltic with cadets onboard, regularly visiting Poland and German Democratic Republic. After Kirov's decommissioning, the two bow turrets were installed in Leningrad as a monument to the defender ship.
Displacement (max): 9436 tons
Dimensions: 191 x 17.66 x 6.1 (lenght x beam x draft) mt
Propulsion: 113000 shp
Speed (max): 35.9 knots
Main Armament: 9x 180mm cannons in 3 mounts
Secondary Armament: 6x 100 mm guns, 2x 533mm triple torpedo tubes, 2x KOR-1 seaplanes, 100 mines
AA:10x 37 mm guns, 4x 12.7 mm MG
Armour: 50 mm (deck) 50 mm (side), 150 mm (turrets), 150 mm (control tower)
Crew: 724
Torpedo boat Tupolev G-5
In the early 1930s the USSR began mass production of a «mosquito fleet» consisting of aluminum torpedo boats that had high speeds of around 50-55 knots. Development of this project was carried out by the special design bureau of the noted aircraft designer A.N. Tupolev. After building prototype models, series production of the first boats, which were armed with 457mm torpedoes, commenced under the designation Sh-4.
The creation of a new type of boat which was more responsive to the needs of the Soviet Navy was completed in 1933. It was accepted for service under the designator «G-5». This boat was armed with two 533mm torpedoes. Initially, series production was carried out at the «A. Marti» factory in Leningrad, but later on it was also carried out at a number of other factories. Ignoring a number of difficulties which arose during the decade-long production run, more than 200 boats were built to the design specification in several series. The G-5 boats took part in the Civil War in Spain, the Second World War, and the Korean War. During the years of the Great Patriotic War (World War II) boats of this type received various armament configurations, including rockets. Despite the heroism shown by their crews, combat victories scored by these boats were not many in number. They took part in operations in the Baltic and Black Seas, as well as in the Pacific Ocean, where they carried out torpedo attacks, laid minefields, landed troops and escorted convoys.
Displacement (max): 17.84 tons
Dimensions: 19.1 x 3.4 x 0.7 (lenght x beam x draft) mt
Propulsion: 1700 shp
Speed (max): 50 knots
Main Armament: 2x 533.4mm torpedoes or 4x mines
Secondary Armament: 3x depth charges
AA: 2x 12.7 mm AAMG
Armour: N/A
Crew: 9
Super battleship Sovietsky Soyuz
Work on the ship had almost stopped by late 1940, but the hull was complete, and the engines and most of the armour were in place. Between 1941 and 1944, most of the armour was removed for use on land. Postwar, she was cut into sections and scrapped on the slip.
Displacement (max): 65150 tons
Dimensions: 256.8 x 35.88 x 9.87 (lenght x beam x draft) mt
Propulsion: Turbo electric drive, 3x shafts, 210000shp
Speed (max): 29 knots
Main Armament: 9x 406.4mm cannons in 3 triple turrets
Secondary Armament: 12x 152.4 cannons in 6 double turrets, 24x 99.06 mm cannons in 12 double turrets, 4x seaplanes
AA: 48x 37mm cannons in 24 double turrets, 24x 12.7mm in 12 double turrets
Armour: 221 mm (deck), 406.4 mm (side), 406.4 mm (turrets), 406.4 mm (control tower)
Crew: ?
Field howitzer B-4 203mm 1931
The 203-mm howitzer M1931 (B-4) has a relatively short tube, only 25 calibers long. It has a hydraulic recoil buffer, a hydropneumatic recuperator, and a screw-type breechblock, and fires bag-type, variable-charge, separate-loading ammunition. Early models were mounted on a full-track (but not self-propelled) carriage in firing position and for short moves. For longer moves, the tube was removed and transported on a separate four-wheeled tube transporter.
Caliber: 203mm
Barrel weight: 17700 kg
Length: ?
Weight of the projectile: 98.8 kg
Muzzle velocity: 607 meters per second
Range: 18025 meters
AA gun 61-K 37mm Model 1939
Designed in 1938-1939 at the factory No.8 under the factory designation of ZIK-37. The gun's chief competitor was considered to be the Bofors 40mm gun. According to the joint tests conducted in 1940, it was determined that the Bofors did not possess any advantages over our gun in main parameters. The ammunition load consisted of UOR-167 fragmentation tracer rounds and UBR-167 armor piercing rounds.
Caliber: 37 mm
Barrel weight: 2100 kg
Length: 2.25 meters
Weight of the projectile: ?
Muzzle velocity: 880 meters per second
Range: 4000 meters
Ceiling: ?
AT field gun 57mm Zis-2
Russia began its program of outstanding antitank artillery in the early 1930s, and surprisingly, in conjunction with Rheinmetall of Germany. While this was due to the Germans being proscribed from working overtly on weapons, it was beneficial to both sides as they created some common designs. One of the first was a light antitank gun which emerged after they went their separate ways as the PaK 36 3.7 cm gun in Germany and the 45mm Model 1932 in the USSR. Updated in 1938, this weapon was being upgraded just as the Germans invaded in 1941. By 1942 the gun was now given a long barrel and high- performance ammunition, but rumors of German heavy tanks meant a more powerful weapon was needed.
The Main Artillery Directorate responded, and General Grabin's design bureau created a new barrel for the ZiS-3 76mm divisional gun just going into service. The new barrel, 57mm in bore and very long at over 4 meters, produced high muzzle velocities and very high penetration levels for that time.
Eventually, the weapon, using tungsten core "arrow" projectiles, managed to generate penetration levels of over 150mm at 500 meters (90 degree impact) which meant that it was the only gun of its time capable of penetrating even the Panther headon, and could easily penetrate the Tiger I at 1500 meters from any aspect. It also fired a useful HE-FRAG round, and after the war, it remained in production. Over 10000 were built, and have been encountered world wide up until recent times.
Calibre: 57mm/L73
Length: 4.162 meters
Weight of the projectile: 1.555 kg
Muzzle velocity: 1270 meters per second
Range: 8400 meters