Because I love TT's 3d model so much I attempted to create it myself. I have also attempted to design some new ideas to make the fortress fit into Nazgul's vision of Harad. I haven't posted it into Nazgul's Harad faction - concept topic because this might not fit into his Harad. =p
Haradrim Fortress Upgrade Ideas
(most of these are already modelled, they are also ready to be animated - although I have no idea how to animate or rig):
Banners
Desert land - the land surrounding the fortress turns to desert
Mumak tusks - enemy units surrounding fortress take damage
Royal wealth - mumak skeleton turns to gold
Settlement - increases armour and health of fortress (from burnable to burn resistant, from a giant yurt to a solid fortress) -  adds foundation, dome and towers. The design of these parts will be based on the concepts: http://forums.revora...action-concept/
Haradrim Fortress Expansion Ideas:
Watchtower - same as EA's watchtower
Scorpion pit?
Haradrim Fortress Giant Yurt
Seen here with Banners, Mumak tusks, and the part that joins to the fortress expansion - all 7 of them.
Haradrim Fortress Stone
WIP shape of dome, towers and foundation - just imagine the stonework looking similar in shape and colour to 
this
. 
Alternative design
 is all stone. I think that this design, using the Haradrim tents with  sandstone parts would be true to Nazgul's vision.
So Nazgul - what do you think? =D
Remember that it can always be used in Umbar or Far Harad if you don't like it. =D    
P.S. There is also this I that found.
- I didn't realise it was in a public version RC-mod - my version of RC-mod doesn't have it in. I'll leave it here for inspiration. =p
Ridder Clan's Men of the East FortressAs far as I can hope, this model is sitting unused. RC-mod has a newer Haradrim fortress.If this model was available for SEE then it could be edited so that it reflects the colours of the concept art Nazgul found.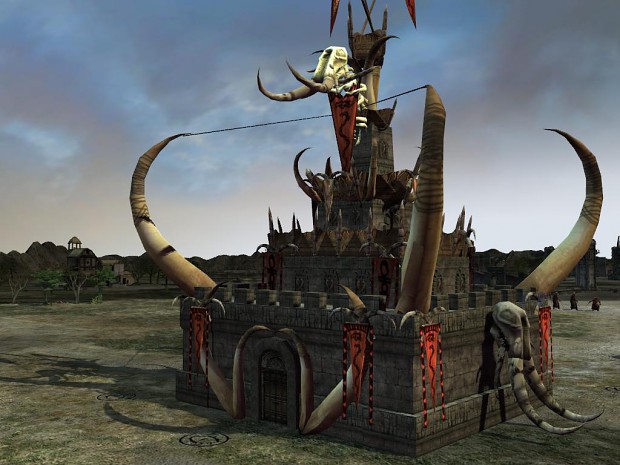 Edited by MattTheLegoman, 17 June 2014 - 02:54 PM.