Originally posted on ModDB by ThePredatorBG on Jun 6th, 2016
Welcome back to another Contra update.
We haven't been resting all that much since the previous update. Dce making new gameplay changes and creating new models as well as testing all new changes online with Persun, and me fixing some bugs and working on maps.
A few new models were made for Cybernetic general. We present you the "Angel" walkers: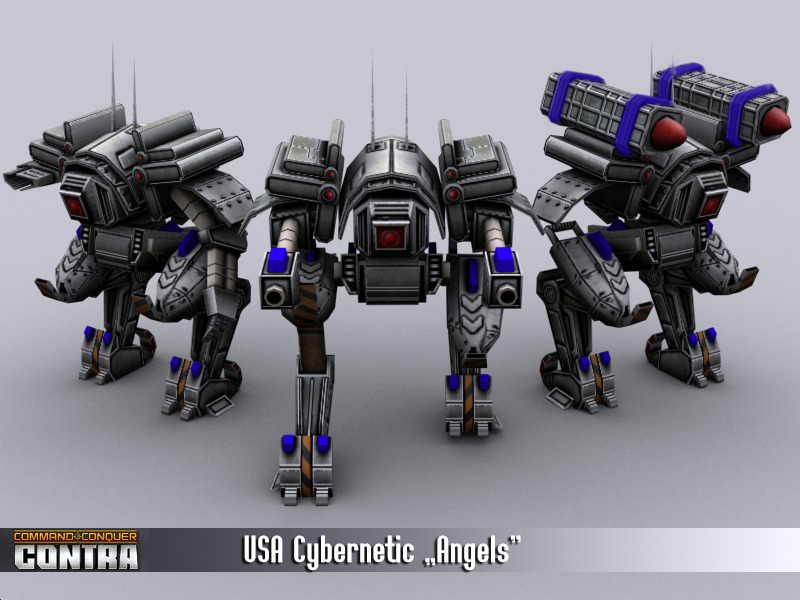 From left to the right:
-
Remiel
- anti-infantry walker which will replace Crab robot at rank 3
-
Uriel
- anti-tank walker which will replace Spider Tank at rank 3
-
Hadriel
- artillery walker which will replace Dominator at rank 3
Units have kept their former units' weapons and got a secondary weapon, Advanced Scan Systems.
Advanced scan systems are purchased with Advanced Data Transmission upgrade. It gives Angels a scan beam, which lowers targeted units' armor by 20%.
We will continue with model updates.
Here comes a trailer for the much anticipated Flame challenge mission. General Bao has risen from hell. Will you be able to endure the heat, general?
As you can see, heroes got new abilities which come very handy in battle.
Burton - can swim, and attack in water. With our own animations, Burton can now pass any obstacle in any map. Come across water and plant explosives on important enemy structures.
Terminator - due to his mechanical body, he can't swim, but he can now avoid being crushed by tanks, also, he can crush infantry as well as some obstacles. His size is visually increased too.
Lotus - is able to create holographic image of herself. This hologram is controllable by the player, can distract enemy defenses and units. Giving Lotus ability to escape, or provide diversion. Hologram has life time, and great armor.
Jarmen Kell - can create sandstorm, which covers him and nearby units. Enemies cannot see units, it is great for attacking or escaping. Enemy units also fire automatically at the storm, so your units can escape very easily. On snow maps, sandstorm is displayed as a snow mist.
That's it for now. Hope you enjoyed the update. Stay tuned!
Edited by predator_bg, 05 June 2016 - 12:48 PM.