The
Mental Omega
Act One playthrough
is over and it's finally time to post some news. While the recording of all 36 missions gave me a chance to once more test and adjust all the Act One missions, I'm glad it is done as now I can fully focus on finishing the Act Two campaign and the design of
Side 4
which we announced a few months ago in
this trailer
.
Replaying the first
36 missions
of Mental Omega which have been released back in 2013 made me reconsider some of the missions' difficulties and tone them down a bit, even on Mental, as you have perhaps noticed. I have also been driven by the thought that none of those missions should really clock over 1 hour of playtime except for the Finales, even on the Mental difficulty, so changes have been made to make them flow faster. I was also able to fix a bunch of bugs and continuity errors which I hope will no longer be the case in the next release. 

The addition of this new side and all the new unique weapons and powers the mod will have is only possible thanks to the
Ares Expansion DLL
's existence and
AlexB
's continuous efforts to make Red Alert 2 Yuri's Revenge as moddable as possible. From the possibility to choose a new side in skirmish or campaign, to the additional interface visuals and audio settings, and of course all the weapon and superweapon logics which are all possible with Ares. Side 4 relies on the DLL in almost every way. It is thanks to all those features that Side 4 will have its unique gameplay mechanics and style.
It is thanks to a solid team of modders, mappers, artists and voice actors (I am obviously not the only one working on this project!) that Side 4 will have its distinct look, sound, and even their own missions for both single player and cooperative modes. A full list of contributors will be available on the
usual page
shortly before the release, but as we reveal the new buildings and units I will tell you more about their authors already. I'd also already like to mention
World Beyond
, whose music was used in the Side 4 reveal trailer and will be used in the game as well.
Here is the full version of the song used in the video,
"The Remnant"
:  
The introduction of a fourth side will obviously result in the increase of total subfactions available in the mod from 9 to 12 as we have been designing this new side with the intention to give it 3 unique subfactions from the beginning. If you are following Mental Omega on
Facebook
or
ModDB
then you already know their names: from left to right, it is
Haihead
,
Wings of Coronia
and the
Last Bastion
. 
The skirmish loading screens for these subfactions have all been created by
Nooze
. 
"Nobody Home"
. I guess that if I disclosed the amount of missions they will be getting to you right now, that would be some sort of a spoiler, so I will not be doing that right now.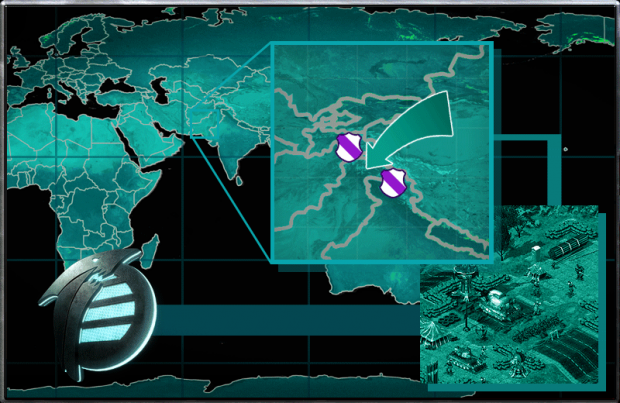 The Mental Omega installer, with its classic "Red Alert 2 Setup.exe look" will be updated to feature several of Side 4's objects on the new so-called blueprints. So far, we've got three, which present the
Teratorn
, the
Mastodon
and the
Plasmerizer
. The models have been created by
Moder.U
,
Lobstrex
and
Bu7loos
, while the artwork is the result of combined efforts by
Tomsons
and
Nooze
. 
Stolen Tech
system. There will not be a set of 4x4 stolen tech infantry units. Instead, there will be a set of 4x4 stolen tech vehicles, while what used to be the stolen tech in the current release will be repurposed or scrapped. We will go into more details on this matter later, however here's one of the new stolen tech vehicles, created by
Azri_Apoc
: the Soviet
Grumble
- the ultimate anti-aircraft system which requires to be deployed before firing its powerful rockets at great ranges.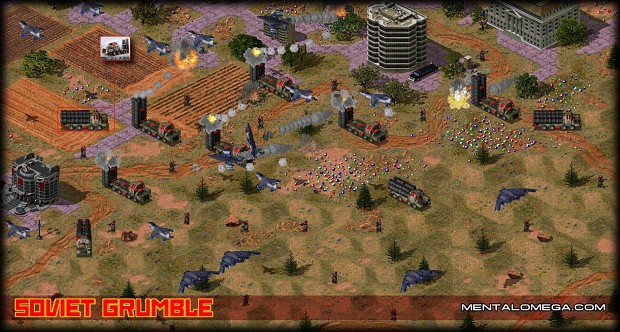 Forget what you know about Future Tanks, Deviators, Apocalypses, Chrono Ivans, Cyborgs etc.
This is the
stolen tech reboot
. 

The new stolen technology roster! 15 units to go.
The original sides have also undergone some changes and received new equipment. 

If you'd like to help develop
Mental Omega
further, write an e-mail to
mental.omega.apyr@gmail.com
Right now we're in need of additional
Voxel Artists
,
3D Artists
,
Mission Scripters
and
Voice Actors
.
Single contributions are welcome.  
Edited by Speeder, 23 November 2015 - 08:31 AM.