I feel I've been neglecting the mod recently, so I've tried to make up for it by adding a new enhancement to it. Almost all infantry in the game that use a different image on snow maps will now have their own 'snow' icon for those maps. Here's a preview of most of the Allied ones (ignore the Spy and Tanya, they won't have alternate icons)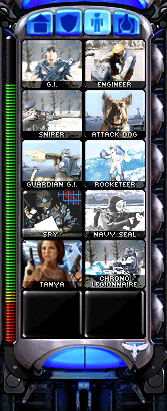 Also, on a different note, the near-holographic looking interface I promised for the Future Forces has unfortunately been cancelled due to positioning problems with the UI itself. I have however created a different sidebar which is a direct recolour of the Soviet one, there are some problems with it however, so it may not make it into the beta. Lastly, about half of the Stolen Tech units are finished. After Stolen Tech is completely finished, and I've finished all I wanted to do up to that point, I will begin looking for beta testers to test Beta 2.
Edited by Nighthawk, 11 November 2006 - 10:48 PM.