Greetings comrade. Our scientist have managed to develop new warfare to help our conquest to power. In this photo you see our new Apocalypse Tank model, which surpasses the old in size, armour and firepower. Armed with high-caliber dual HE-shell lobbing cannons and uranium enhanced missile launchers and being so large that it could crush smaller vehicles with its sheer size, Apocalypse will surely cause fear in enemy ranks. Another new weapon we see is Shock Track, our new and improved vehicle to replace the old Flak Track. Still armed with AA flak-shell guns, but equipped with dual Tesla coils, using electric bolts against ground targets. Main purpose of Shock Track is being light AA-vehicle and tesla bolts against infantry and light armor, but also retaining Flak Track's old transport ability.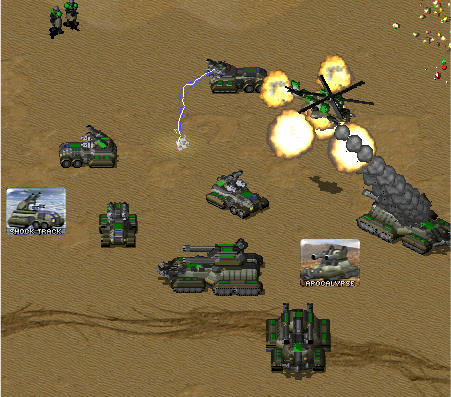 However shortly after when these tests were conducted, facility fell under attack of unknown force. We still do not know if they were those capitalist dogs or traitor Yuri, but our specialists suggest that it could have been something else.. Before whole base complex within facility was damaged beyond repair, our intelligence personnel over there managed to capture one photo which shows small part of the attacking force.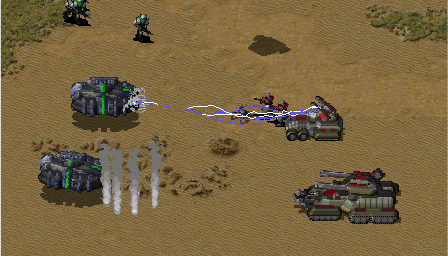 Also as side note, voxels are subject for improvements, be it radical or small
.
More to be seen later.. Including more in-depth information regarding factions...
Edited by Starkku, 28 February 2012 - 04:03 PM.