Sonic Curator:
The Sonic Curator is armed with a Sonic Disruptor that is very effective against Infantry, but not completely effective against tanks or buildings. Once a veteran, he can also swim.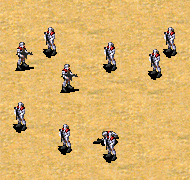 Allied Medic:
The Allied Medic uses his field medical kit to patch up nearby infantry. He is also vulnerable because he has no offensive weapon of his own.
Edited by Vincent93, 11 May 2008 - 03:21 AM.