C&C:Reloaded 1.4.0 released with latest CnCNet support and tons of changes.
If somebody is interested to read the full changelog, please visit here:
https://forums.revor...ures-changelog/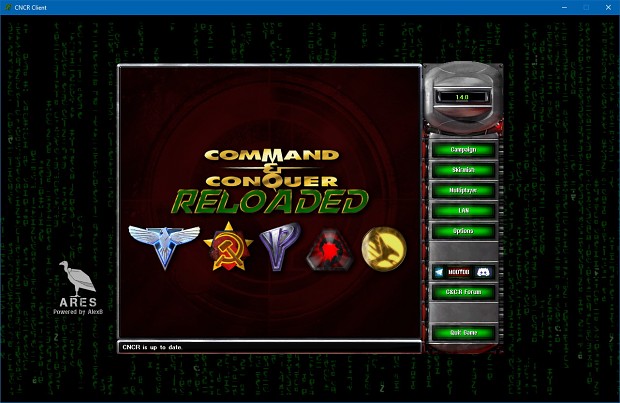 The installation instructions is simply:
1) Create a new folder.
2) Extract all the content of the compressed download into the new folder.
3) Run the "RUN ME FIRST - C&C Reloaded installer.exe" or copy these YR game files (Yuri's Revenge must be updated to the 1.001 or it will not work):

- gamemd.exe (version 1.001, from original CD, The First Decade or The Ultimate 
Collection release, if it isn't the original file Ares might fall and the game 
will not work properly).
- ra2.mix
- ra2md.mix
- language.mix
- langmd.mix
- expandmd01.mix
- binkw32.dll
- blowfish.dll
Optional files for a better game experience (specially for campaigns):

- thememd.mix
- movmd03.mix
3) Run "CnCReloadedClient.exe", configure the settings and play offline single player or online multiplayer on CnCNet.
4) Have fun!
The official download links are located in:
It isn't an April Fool's Day joke.
Edited by FS-21, 01 April 2020 - 12:25 PM.